Sister Tracey Horan Recognized
June 24, 2017 | Terre Haute Tribune Star | Link to Article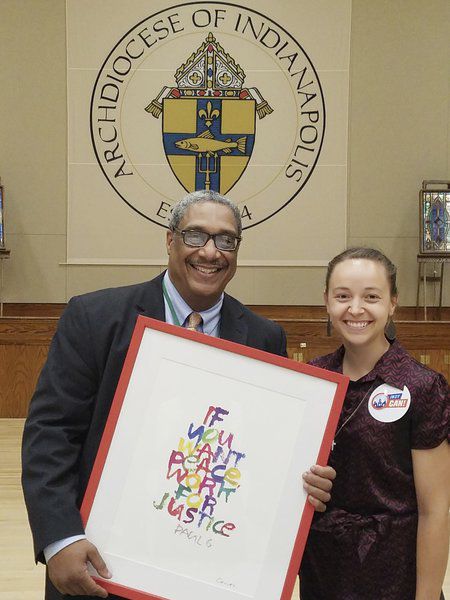 Sister of Providence Tracey Horan was honored for her work ministering in social justice by the United States Conference of Catholic Bishops at a June 14 reception in the Indianapolis Catholic Center.
Sister Tracey, a native of Indianapolis and second-year novice with the Sisters of Providence of St. Mary-of-the-Woods, received the 2017 Cardinal Bernardin New Leadership Award from the Catholic Campaign for Human Development, the USCCB's domestic anti-poverty and social justice program. Sister Tracey, who ministers as a Bilingual Community Organizer for the Indianapolis Congregation Action Network, said she did not know she had been nominated for the honor until she received an email from USCCB officials.
"I wasn't even aware that the award existed until then," Sister Tracey said. Sister Tracey added she had been nominated for the award by one of her colleagues, Shoshanna Spector, IndyCAN executive director.
During the reception, Sister Tracey spoke to the bishops in attendance for about two minutes on the topic of social justice. When she began her ministry with IndyCAN, Sister Tracey admitted there was a learning curve for her. "I didn't have any formal training in community organizing," she said. "I definitely have had a lot of growing pains in setting meetings with (Indianapolis Mayor Joe Hogsett and staff) and doing big events. It's brand new to me. But we have a lot of amazing leaders who are a part of IndyCAN."
The award is given in honor of Cardinal Joseph Louis Bernardin, who ministered as the Archbishop of Cincinnati from 1972-1982, and then as the Archbishop of Chicago until 1996 when he died.
"There is a connection with the Sisters of Providence," Sister Tracey said. "We had several sisters who ministered in the Archdiocese of Chicago when Cardinal Bernardin was there. There has been a strong connection with our community and his legacy.
"I know that he was really passionate about systemic work and I know that he is really known for being a connector of people."
Sister Tracey added that receiving the award "affirms" not only IndyCAN's dedication to social justice, but also the Sisters of Providence.
"I think it is challenging to do social change work within the church," Sister Tracey said. "Even though it is an essential part of who we are, it takes a lot of work to bring the everyday Catholic into it sometimes."
"But this gives me a lot of hope that there are still people who want to make sure this legacy continues and remains essential to the mission of the church."