Priests join event opposing immigrant and refugee discrimination
February 17, 2017 | The Criterion or Archdiocese of Indianapolis | Link to Article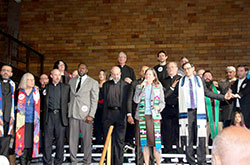 People of different races and faiths filled the gym of St. Philip Neri School in Indianapolis on Feb. 12.
There for something much more serious than a sporting event, the crowd turned out to hear and support Indianapolis Mayor Joe Hogsett as he vowed to work with Indianapolis Congregation Action Network (IndyCAN) and the City-County Council to pass a resolution forbidding the use of Indianapolis and Marion County resources to enforce federal directives proven to be unconstitutional or discriminatory toward immigrants, such as requests by U.S. Immigration and Customs Enforcement (ICE) to detain non-citizens not charged with a crime.
"There was a lot of energy in the room," says Father Rick Ginther, pastor of Our Lady of Lourdes Parish in Indianapolis. "It was very hope-filled. I thought, 'This is the Gospel in action.' "
The event was sponsored by IndyCAN, an organization whose mission according to its website is to help "low- and moderate-income citizens" of central Indiana "build the leadership capacity … to improve the systems impacting their lives."
Father Christopher Wadelton, pastor of St. Philip Neri Parish, is a member of IndyCAN.
"We were looking for a place to host [the event]," he says. "Because of the high percentage of immigrants in our parish, we seemed like a natural."
He estimated the turnout to be between 1,500 and 2,000 people, including immigrants, leaders of many congregations, Catholics, Muslims, Christians and Jews.
"It was overwhelming to see the response," he says. "It spoke to a new level of anxiety in our immigrant community. … What it highlighted for me is our families are scared and want to hear some consoling word."
Father Wadelton says he received numerous calls from families wanting to attend the event, but were afraid to do so for fear that ICE would show up to arrest and detain them.
According to a recent national study by the San Francisco-based Immigrant Legal Resource Center, the Marion County Sheriff Department is in the top 6 percent of counties nationwide with the most stringent anti-immigrant policies, and spends significant amounts of time and resources enforcing federal immigration policies locally.
Father John McCaslin, pastor of St. Anthony Parish in Indianapolis and a founding member of IndyCAN, was one of seven priests present at the event. Among the speakers at the event, he says, were two immigrants sharing their stories of how detention for minor traffic violations affected their lives, potentially forever.
"A wife and mother said her husband went to take the car to the shop, and he never came back," Father McCaslin recounts. "He'd been detained and is in the process of deportation.
"Another one had been pulled over, I think for a taillight or some kind of light, and now has a court date in March, and figures that he'll be pulled away from his family.
"That's the hard part. People can't get a driver's license. They have to survive and get around, and our public transportation is not good in the city, so they almost have to drive in the city."
Father McCaslin is sympathetic to the plight of undocumented immigrants.
"If you look at the wait time and even who's eligible to become a citizen—bear in mind that many of the undocumented immigrants are coming from countries where there's great violence, economic instability—they can't find work to support themselves," he says. "They're fleeing desperate situations.
"My own experience of the immigrants is they come here with hope, and they come here for a better life, or they come here for families, or they come here to contribute. I can certainly see in my own community the role of the immigrant community in building up parish life, serving the community, contributing to the economy and to the good of society."
He notes that the event served also to protest the executive order temporarily preventing refugees from entering the United States.
"The issues we take up are about human dignity and economic opportunity for the poor, and all are in line with Church teaching," he says.
"What I hope people begin to realize is we're talking about human lives here, and the lives of families, the lives of children.
"It's a complicated situation," he admits. "We're talking about blended families of citizens and non-citizens.
"But they're families who have their lives here and want to contribute, and want to live in peace and free from fear.
"And they want to help make America great again." †