IndyCAN Providence sister earns national award for fighting 'battles that seem unwinnable'
June 23, 2017 | The Criterion | Link to Article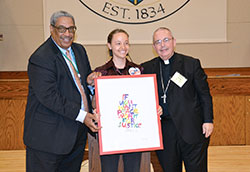 WASHINGTON (CNS)—Providence Sister Tracey Horan has learned that walking with people—accompaniment, as Pope Francis calls it—can make a difference in the world.
She recalled learning the lesson time and again during her work as a community organizer with the Indianapolis Congregation Action Network, or IndyCAN, as well as during her journey toward religious life.
Sister Tracey, 29, a second-year novice with the Sisters of Providence of Saint Mary-of-the-Woods, said she has found that the people she works with in neighborhoods and 30 congregations, including the 17 largest, around Indianapolis are the inspiration that fills her with hope in a world beset by injustice.
Beginning in August, she became immersed in IndyCAN's Ticket to Opportunity campaign which ultimately saw voters pass a transit expansion that promoters said will create thousands of jobs and boost access to public transportation for people who struggle economically.
Her willingness to listen to people as they discover the power they hold to achieve social justice earned Sister Tracey the 2017 Cardinal Bernardin New Leadership Award from the Catholic Campaign for Human Development (CCHD), the U.S. bishops' domestic anti-poverty and social justice program.
The award was presented on June 14 at a reception in the Assembly Hall at the Archbishop Edward T. O'Meara Catholic Center during the spring meeting of the U.S. Conference of Catholic Bishops in Indianapolis.
Sister Tracey, a graduate of Roncalli High School in Indianapolis and the University of Dayton, said she was "both surprised and honored" to win the award because of the short time she has been with IndyCAN.
"It gave me a chance to step back and really be grateful for the amazing work I get to be a part of, and the courageous faith leaders that are at the heart of it," she said.
Sister Tracey finds it "really affirming" to be chosen for the award.
"We spend a great deal of time and energy co-creating the 'slow work of God' in community engagement work," she said, quoting the foundress of the Sisters of Providence, St. Theodora Guérin. "We fight battles that seem unwinnable and amplify the voices of people who are often told by the dominant culture that they have no power over their destinies. ... This is not easy work. The transformation and 'wins' that result are sometimes hard to measure. So to me, this is a measurable affirmation that what we are doing matters. And that's really heartening."
In nominating her colleague, IndyCAN executive director Shoshanna Spector said Sister Tracey has "worked alongside immigrants, returning citizens and people in poverty to live out the Church teaching to building bridges across differences, raising the prophetic voice and awakening the voice of a marginalized electorate that is transforming Indianapolis."
Each day is different in the organizing world, but Sister Tracey has found that the common bond is the people. From sitting in a Latino leader's kitchen to discuss his experience with discrimination to reviewing an urgent petition with faith leaders after Mass or a prayer vigil with a family facing the possibility of deportation, Sister Tracey has learned that the greatest treasure she has experienced is accompanying people through their struggles.
"Always it means connecting the stories of our people with systemic injustice and our call to make manifest an alternate reality: an economy of inclusion, a framework of abundance, the reign of God," she wrote in response to an e-mail from CCHD staff. "Always it means asking questions about why things are the way they are, dreaming together about how they could be and asking, 'What will it take to get there? How can we build this vision together?' "
Sister Tracey admitted that her understanding of Catholic social teaching took time to grow in her life. She credited her high school Spanish teacher, Senorita Trick, for helping change her understanding of the world through an assignment to develop an argument opposing a fence along the U.S.-Mexico border. At that point, Sister Tracey had been a vocal supporter of the fence to keep out people she considered "lawbreakers."
While researching the issue, Sister Tracey said, she learned about the lives of people who migrate, the root causes of migration and the way the U.S. contributes to those causes, learning about her misconceptions along the way.
After college, Sister Tracey worked in El Paso, Texas, as a teacher at a Catholic school and living with a group of Sisters of Charity as a lay associate in community. She also volunteered at a clinic for children with special needs across the border in Ciudad Juarez, Mexico. She said it was through observing the way the sisters ran the clinic—teaching mothers to administer therapies for their children so that families could become self-sufficient—that she began to see a "different way of doing justice through empowerment and engaging leadership of marginalized people."
Sister Tracey said it has been "providential" that her experiences with people on the margins have continued to grow in her religious vocation with the Sisters of Providence.
"Being an organizer was something I had thought about before I entered the community several years ago," she said. "It seemed really providential to find a way to bring together my passion for organizing, my rootedness in Catholic social teaching, and my passion for justice for immigrants. Several pieces of my faith journey seemed to coalesce into something really meaningful."
And now she has the support of the sisters and St. Theodora in her work.
"I lean heavily on the support of my sisters for the strength and courage this ministry requires," she said. "[They] support this mission with prayers, letters to our immigrant leaders facing deportation, donations, attendance at trainings, rallies and vigils. … We always say, 'where one Sister of Providence is, there we all are.' "
She could say the same is true of St. Theodora.
"I'm amazed at how often I find myself quoting our foundress," she said.
Sister Tracey once shared with community leaders "the story of the way our sisters were targeted by anti-Catholic groups and experienced threats and arson in their early years.
"Mother Theodore was an immigrant who was looked down upon by many, didn't speak the language, and came to an unknown land. What she found was not at all what she had expected. I find that many of our immigrant leaders resonate with this legacy."
In Indianapolis, Sister Tracey is involved in the Indianapolis Archdiocese's Justice for Immigrants Campaign and maintains a connection with the House of the Little Flower Catholic Worker community to help her stay grounded in the margins of society.
Organizing work is long and hard, she said, but worthwhile. "I believe in transformation and walking with people.
"It took me a long time and a lot of influences to understand how Central Catholic social teaching is to who we are as Catholics. So anything we can do to raise awareness of that is a contribution to the legacy of the Church."