IndyCan Calls For Lawmakers To Pass Regional Transit Plan
November 7th, 2013 | WFYI | link to article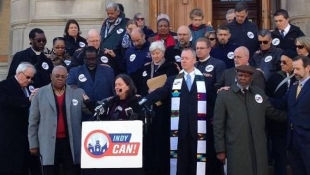 A group of church and business leaders is calling on state lawmakers to pass legislation creating a regional transit system. IndyCan, which includes individuals of 17 different denominations, kicked off its "Ticket to Opportunity" campaign outside the statehouse Thursday.
"We're here today to call on the Transit Study Committee to recommend a plan to the state senate that doubles the bus service and connects hard working bus riders to job hubs in Plainfield, Whitestown, Carmel, and other satellite cities," said Reverend Al Goertemiller of Pilgrim Lutheran Church in Carmel. "Sometimes the people are not where the jobs are. That's why we need mass transit."
IndyCan hopes to present lawmakers with 1,000 stories of bus riders when the session reconvenes next year.
Pastor Brent Wright of Broad Ripple United Methodist Church says legislators need to look beyond political and economic factors when it comes to transit.
"Will they have the moral courage to give all of us the opportunity to do our part to improve our city? Will they have the moral courage to take a stand for those who are working hard to make better lives for themselves and our next generation?," he said. "Or, will they shrink from the opportunity of this moment in history, choosing instead an inadequate status quo?"
He says bettering the system is important for Indianapolis' overall growth and the current system is keeping individuals such as Dwayne Penelton from opportunities.
Penelton says he ended up homeless because of limited transit options.
"There was a time when I was unemployed for six months. I was offered a job at an airport, third shift making $11.50 an hour," he said. "But, instead I had to turn the job down because there was no public transportation."
The Central Indiana Transit Study Legislative Committee meets again November 21 and expects to vote on a final plan proposal by December 15.