As Congress nears possible immigration vote, Church supports fixing system hurting millions
September 27, 2013 | The Criterion | Link to Article
'The promise of equality and dignity'
As Congress nears possible immigration vote, Church supports fixing system hurting millions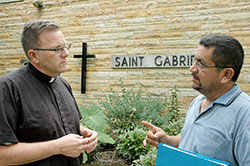 Eleven years have passed since Rolando Mendoza Sr. crossed the border from Mexico to the United States, leaving behind his homeland where his father was killed in a shooting on the street and where his own dream of providing for his family collapsed.
On that June day in 2002, Mendoza crossed the border into Arizona where a relative waited for him and his family to drive them to Indianapolis.
As his wife and his two young sons walked with him, Mendoza carried his then-2-year-old daughter. He also carried with him the dreams of a better life and future for his family.
Yet as much as Mendoza hoped to gain from a new start in America, he still never imagined the moment that recently unfolded at St. Monica Parish in Indianapolis.
On Sept. 8, about 650 people from different faith traditions—including a strong Catholic contingent—filled the parish hall at St. Monica to urge U.S. representatives from Indiana to vote for a path to American citizenship for the estimated 11 million undocumented immigrants in the country. (Related: Bishops' proposal outlines plan for comprehensive immigration reform)
As Congresswoman Susan Brooks spoke to the crowd, her words were interpreted into Spanish for some members of the audience by Rolando Mendoza Jr., a student at the University of Indianapolis.
"It was a very emotional moment for me," the senior Mendoza said later as tears flowed down his cheeks. "In coming here to this country, I just felt my children could accomplish so much more than me. I'm just a laborer. To see him standing on the same platform with a U.S. Congresswoman, I was really happy."
'The promise of equality and dignity'
Similar dreams for a better life were at the heart of the Sept. 8 event that was part of the Catholic Day of Prayer and Action for Immigration Reform across the country.
Geared toward a potential October vote in Congress on immigration reform, the initiative was started by the U.S. Conference of Catholic Bishops (USCCB) "to highlight the urgency of the issue and to show Congress the broad support in the Catholic community" for reform, including a path to citizenship.
"Right now, our immigration system is broken," said Archbishop Jose H. Gomez of Los Angeles and chairman of the U.S. Conference of Catholic Bishops' Committee on Migration. "As a result, families are being broken apart, and millions of people, including children, are being hurt. We need immigration reform to help our nation live up to its beautiful promise of equality and dignity for all people."
Immigration reform is also a priority of the Indiana Catholic Conference (ICC), the public policy voice of the Church in the state.
"In the interest of all, immigration policy needs to be revised in a manner that is humane, realistic and respectful of the immigrant as well as serves our nation's economic and security needs," said Glenn Tebbe, ICC executive director.
"Our nation has welcomed immigrants, refugees and exiles fleeing oppression, and seeking liberty and the opportunity to achieve a full life. We must ensure that our immigration policy fulfills this precedent for the recent immigrants, and not only those from the past."
One of the organizers of the event at St. Monica was 28-year-old Isaias Guerrero, the "justice for immigrants" campaign coordinator for the Archdiocese of Indianapolis and the Indiana Congregation Action Network (I-CAN).
The push for immigration reform reflects the Church's historical tradition as an immigrant Church and its faith tradition of "opening doors when people are in need, to see in the immigrant the face of Jesus Christ," Guerrero noted.
His own inspiration for reform starts with the difference that immigration made to his family whose roots are in Colombia. After losing a job in his homeland, his father brought his family to Indianapolis where he had relatives. Guerrero's father soon found a job.
"It's been 12 years, and it's been good ever since," Guerrero said with a smile. "I consider myself a Colombian Hoosier. It's a real good place to be."
He paused and added, "This is the time to be on the side of family and the Hoosier values of hard work and hospitality."
Hardship and heartbreak
Guerrero's other motivation for reform is the way that current immigration laws have created hardship and heartbreak for many people seeking a better life.
He shares the story of what happened to an undocumented immigrant who is a member of St. Philip Neri Parish in Indianapolis.
"He missed a traffic court appearance, and immigration officials came to his house. His 10-year-old son watched him being taken away," Guerrero said. "He's still in detention, and his family had to leave their home because he was the provider."
He also tells the story of a 10-year-old Indianapolis girl whose mother was deported to Mexico. Then there's the story of a mother, whose son serves in the U.S. Navy, who worries about being deported.
"Since 2011 in the Midwest, there have been 5,000 deportations, and a third of them have been on traffic violations," Guerrero noted. "We're still seeing that families and people just trying to get to work have fallen victim to deportation, even though they're not a threat to the country. The fear of being stopped and deported is big in the community."
Another concern for immigration reform advocates is the toll that immigration laws have on young people. Unable to establish residency in the United States, children of undocumented workers in Indiana are not eligible for in-state tuition for the state's colleges.
"There is so much talent being wasted," Guerrero, said, "so many students who can't follow their dreams."
'A presence of hope'
That dream of a better life stands in contrast to the nightmare that many undocumented immigrants faced in their homelands, according to Father Michael O'Mara, pastor of St. Gabriel the Archangel Parish in Indianapolis.
"I've traveled a lot to Latin America for the last 30 years of my life," Father O'Mara said. "I've experienced the extreme poverty in which they live. It hurts to see people live in that extreme poverty.
"The international economic system continues to work against the poorest of the poor. And the violence in some of these countries is so well spread, there is no stopping it. Most immigrants will say it wasn't an option for them to come."
At the same time, the Catholic Church is called to make its position known regarding immigration reform, Father O'Mara said.
"God continues to call religious leaders to speak on behalf of those who don't have a voice, to be a presence of hope in a very difficult situation."
Rolando Mendoza Sr. has lived that difficult situation. He has embraced that hope. He has relied upon his Catholic faith. On his first day in Indianapolis in 2002, he came to St. Gabriel Church to pray.
"I gave God thanks for bringing us here," he said, talking in Spanish while Father O'Mara interpreted. "I prayed that he would help me find work. And thanks be to God, I found work the next day. And I've never been without work since arriving. I also prayed to God to be a good father to my children."
Eleven years after Mendoza made that prayer, there's still uncertainty about what the future holds for him, his children and other immigrants. That future will be shaped by the decisions that Congress makes. Still, there's one part of his life that has already offered him a change for the better.
"The biggest change I've experienced is that I wasn't that close to the Church in Mexico," said Mendoza, a member of St. Gabriel Parish. "Coming here, I have developed a very close relationship with the Church."
That faith guides him in his daily life. He supports his family by driving a forklift and operating other machinery at a recycling company. He looks at his four children—the last one was born in the United States—and dreams of professional jobs for them.
It's the dream that has driven immigrants through time—to create a better life for a family, to seek a more hopeful future for the generations that follow.
"It's been a journey," Mendoza said. "With everything I have experienced, my desire is to share everything I have with my family, my community and my Church."